The Kashian Bros Story
Since 1910
We are proud to be a North Shore company and appreciate both new clients and those we have had for generations.
Service, Committment and Excellence.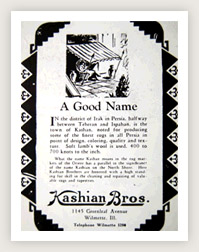 In 1910 Haig Kashian and his brother opened a small rug cleaning and repair business in Wilmette. They took great pride in cleaning and restoring area rugs to their original beauty. They provided friendly professional service with a personal touch, often delivering the rugs to their customer's homes on bicycle.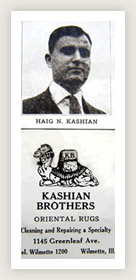 We remain a community-based business with ties that go back generations with many of our loyal customers. We strive to provide excellence in customer service, quality craftsmanship in everything we do, and competitive pricing backed by knowledgeable, professional, friendly sales people to assist with all of your flooring needs.
Our goal is to service our customers in a way that they become customers for life.
Our store at 1107 Greenleaf Avenue, Wilmette, IL
In order to truly immerse yourself in the myriad possibilities for your next flooring project, we suggest you visit our showroom in downtown Wilmette. A frequent haunt for some of the North Shore's top interior designers, the Kashian Bros showroom combines the best of old world craftsmanship and modern technology.
But what really makes our showroom special are the wonderful people who work there. Our friendly staff has the knowledge, experience, and imagination to make sure you have a wonderful experience while you achieve the floors you've been dreaming of.